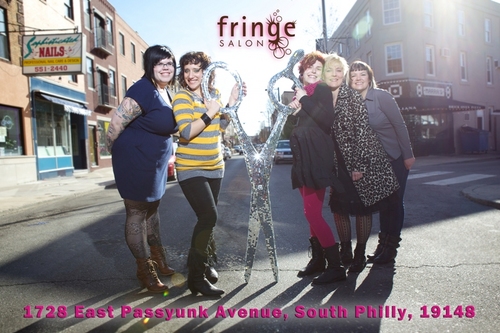 It's so easy to forget about yourself during the holidays — you've gotta stay on top of Santa's wish list, squeeze a giant tree into your tiny rowhome (and subsequently pick up one thousand pine needles per day), stop the cats from destroying all the ornaments, tip your servicepeople appropriately, and be mindful of your relatives' various and sundry picky eating habits (looking at you, uncle who only likes LeSeur peas). For me, it's not till December 26 that I feel like singing "Joy to the World."
So I'm making a new year's resolution to treat myself to a little holiday pampering, and I think you should, too. Shop South Philly business partner Fringe Salon will do just the trick: Offering haircuts, color treatments, blowouts, updos, deep-conditioning treatments and waxing, this neighborhood salon located on East Passyunk between Moore and Morris streets has everything you need to keep your spirits (and your hair) bright and shiny.
And let's not forget that the salon doubles as a gallery, hosting visual artists and First Friday receptions. Oh, and according to their website's Services section, each customer gets free cat therapy, courtesy of Salon resident Uli. 
As a bonus to South Philly Food Co-op members, Fringe Salon offers a one-time $5 discount for men's haircuts and $10 off for women's. (Read more about this and other partner businesses on our website.) All you have to do is show your South Philly Food Co-op membership card to take advantage of this great member discount. And don't forget to share a photo on your Instagram, Facebook or Twitter account to be eligible for our #ShopSouthPhilly Photo Contest.
Not a member of the Co-op yet? Treat yourself!